I used to be a religious person. Note the word used. But with all the crises that I went through for the past years, I was just like Jim Curry who berated Morgan Freeman in the movie Bruce Almighty. So when Resty broached to me the idea of prayer healing, I politely said yes. Dr. Emer e-mailed me that if all fails, let him know because he knows somebody who may be able to help me. I did not know that they were referring to the same person, Father Suarez. Lorena also referred me to Father Faller and my sister has her own prayer group.

I believe in miracles but it's just that I did not believe that I will have another chance especially if the diagnosis,is not just cancer but it is cancer in different organs. In short, it has metastasized. And all the doctor was looking for was the primary.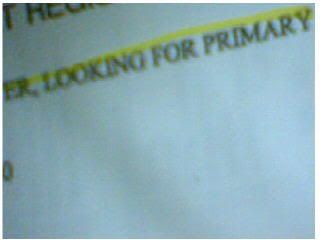 It all started last early last year. I was in Los Angeles when I felt something in my upper abdominal area. I dismissed it as heart burn. Then I noticed that I was losing weight. It was 30 pounds in one month. I was glad but my only problem was I did not reduce my food intake so what's bringing my weight down?

Then when I went back to SF, several blue black bruises appeared in my legs and arms. The came hair loss. I changed my shampoo and hair conditioner. My friend advised me to see my doctor. My doctor scheduled me for series of lab tests but I only got to the point of having mammography. Then I left SF for personal reason with the plan to go back after six months and continue with the lab tests. In the meantime, I told the doctor that I was on a vacation and please reschedule my appointments.

Then came the pain. So intense that I could not get up from my bed without crawling. As I have written before, I could not walk a meter without stopping for a few seconds rest. I have to buy me a walking stick to avoid from tripping when I felt nauseous.

The result of the mammogram was forwarded to me with the advise to repeat the process since there was a finding.

I ignored it. I was busy coordinating with a friend of mine to work in their company in New Jersey. One of the execs was coming to Virginia and if I could see her for interview. I mapped out the place, it was some two hours away from our place.

One thing that I do before any interview or appointment is that I go to the place first. So after calling the bus company and the train, I set for the trip. Only, I had to go home before I can even board the bus. Something was wrong. This was not me who used to walk several blocks in San Francisco downtown from the BART.
To be continued...





Tags:
Father Fernando Suarez,healing prayers,miracles