This is how an MRI (Magnetic Resonance Imaging) looks like.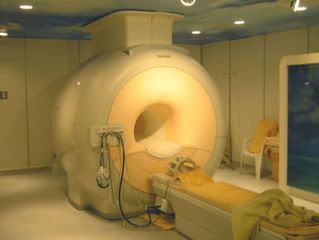 .

I have this test today. Kinodakan nila ang aking brain kung lintek ng Big C na iyan ay pinakialaman na rin. Hindi ko alam kong nakangiti.

First, I asked the tech to cover my eyes. I am claustrophobic that the thought that I would be "scanned" inside for 30 minutes bombarded with noise and warm air that would make you feel you want to go makes me nauseous. Kung naging ala Maricel Soriano lang ako di sana bago nila ako ipinasok doon, sinabi ko na naman ang dialogue ko na ayoko nang masikip at saka lumuhod na huwag akong ipapasok doon. Maawa na sila. But that was only in my mind. And it was going to be read and photographed by the MRI.

Hinubaran ako ng lahat kong suot na metal. Tinanong pa nga ako kung may metal daw ako sa ulo. Ano ko si Terminator?

When I was taken out from that tube, I asked the tech. Am I well done, rare, medium rare or ...

The tech looked at me. She could not believe that I can still make a joke about the process that was meant to find out how serious my disease is. But she thanked me for being cooperative. Twice, she pulled me out for instructions. Magsasalita ba naman siya doon sa mic, eh nakapikit nga ako and I was trying to psyche myself that I was not there. That I was floating in the clouds. ngeek. Kasama ng mga angels?

I said I feel like a chicken or beef steak that was put inside the oven.

A friend nagged me. How can I find humor in matters which he finds morbid ?

Masakit sa ulo at sa panga ang umiyak.






Tags:
Father Fernando Suarez,healing prayers,miracles